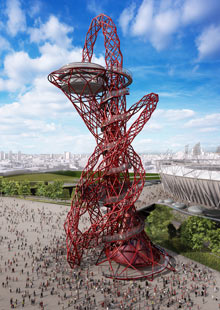 Maybe some of you readers have been to Paris. Tell me, wasn't the first thing you thought when you saw the Eiffel Tower "Boy, I sure wish this durned thing was red and twisty and that any idiot with a sixpack of Natural Ice in him could climb up it if he or she wished to"? Sure, we all say that. The lack of a climable metal piece of artwork is Paris' greatest flaw. Plus, it would be better if Eiffel also built it in a place that spoke English; either the King's or Americanese.
Well London, the UK Olympic Committee, London mayor Boris Johnson, and architect Anish Kapoor heard your clarion call.
Climbable red twisty Eiffel Tower
!
Designs for what will be Britain's biggest piece of public art, a 120 metres tall looping tower by the artist Anish Kapoor that people will be able to climb, giving spectacular views of London, were unveiled today by Boris Johnson, mayor of London.

Kapoor's Orbit, a vast, snaking steel structure, will dominate the 2012 Olympic park. It is being hailed as London's answer to the Eiffel tower and is part of an ambition to make the Olympics site a permanent visitor attraction.

Kapoor won the commission from a shortlist of bidders believed to include the artist Antony Gormley and the architects Caruso St John. Johnson said of Kapoor: "He has taken the idea of a tower and transformed it into a piece of modern British art. It would have boggled the minds of the Romans. It would have boggled Gustave Eiffel."
Hmm, I think you're overselling it a bit, Boris. Still one does appreciate the verve with which you're opening up English citizens and tourists from all around the world to violent falling deaths from a distance of up to 120 meters. Truly your commitment to the Olympic tradition of building immensely ludicrous structures is not constrained by base notions of architectural eyesores and public safety. Well done, sirs.