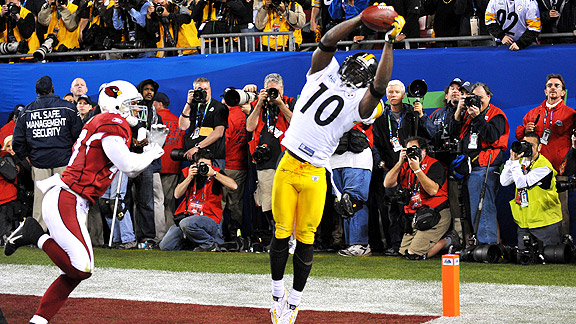 We are the Montreal Canadians, we are the Boston Celtics, we are Manchester United, we are UCLA basketball, we are the New York Yankees, we are the Pittsburgh Steelers and we have more Super Bowls than anyone else in the sport. Enjoy the view from behind San Francisco, Dallas, and the rest of the NFL.
62 Scat Flasher. That's it, that's the name of the play that will go down in Steelers history and Super Bowl history as one of the greatest throws and catches ever. And it's illustrious name sounds like something you'd never forgive your friend for sending you a video of. 62 Scat Flasher. On the drive home radio guys were already trying to create a name for it. Ben to 10, the Stretch, the Immaculate Extension, whatever. Name or no name, get used to seeing it forever on the highlights. ESPN, in their full on "Everything that just happened is the best ever" mode, named the top 10 Super Bowl plays ever last night, in at #10 was one of Fitzgerald's TD catches, James Harrison's electrifying FU TAINT came in at #3, and the Holmes catch was #1.


I will buy into the hype that might have been the best Super Bowl ever played. From start to finish it was exciting and the 4th quarter was especially nerve wracking, combining rage, disbelief, elation, confidence, fear, the stomach kick of the Bettis Indy fumble, and the elation of......I don't know how to describe it, it set the new bar. It also had one of the most mind boggling penalties you'll ever witness, the Jeff Hartwig "hold" that resulted in a safety. How could he hold the man? He was too busy getting knocked on his ass. The Steelers did what all great teams do (i.e not Seattle), shook off the call and got down to fucking business, even shaking off a another holding penalty from the line on the last drive.

Final thoughts.

No one can talk shit on Ben ever again. He can hold the ball for as long as he fucking wants, because he pulled out at least 8 or 9 "holy shit" scramble throws, including just about every throw he made on the final drive.

I have a feeling Santonio will never be called San Antonio again.

The O-line still sucks.

On that last play Holmes was pretty much the only receiving option as Ward was severely banged up and Nate Washington injured his arm on his catch earlier in the drive (which is why he was in a sling post-game), and both were essentially serving as decoys. Think about that.

Triple coverage. Think about that.

The Harrison TAINT was the biggest play of the game, bar none.

With his constant shank punts resulting in turnovers because of balls doinking off unsuspecting up-men and extra possessions because of getting bowled into horrifically by idiots, Mitch Berger is your accidental playoffs MVP.

Get well Daniel Sepulveda.

Dick LeBeau. Exclamation point.


The O-Line still sucks.

Woodley. Another playoff game, another 2 sacks.


Bruce Arians will never be fired.

What happened to Ken Whisenhunt's mind powers?


I think these Rooney people know what they're doing.

How's that "Gary Russell won't score" prop bet look now Sports Guy and Cousin Sal?

Less than two hours after the Steelers won, Bob Pompeani, Jory Rand, and Bob Smizik were intently discussing the Steelers upcoming moves in free agency. They at least had the decency to not break down the draft.

Who do we draft? O-Line, right?

Football is a mental disease.

The O-Line still sucks.

#1 D, 8-1 in Super Bowls. Team with a TAINT, 10-0 in Super Bowls.

Woo.