Maybe you watch Dancing With the Stars and already knew this, but Professional singer and dancer Nicole Scherzinger beat Olympic Ice skating gold medalist Evan Lysacek for the prestigious crown. Yes, a show that is ostensibly about celebrities making asses out of themselves and learning to dance effectively had a final three (including ESPN reporter and former college cheerleader and Florida Gator dance team member Erin Andrews) that basically comprised three people that were as close to professional dancers as they could possibly be. Yeah, I bitter about the competitive purity of celebrity dance competitions. Whatever.
How do you think the New York Post decided to announce
the pop singer beating the skating champion
?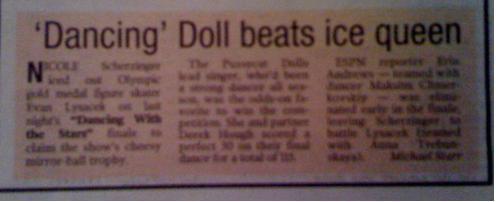 Get it? Because all male figure skaters are giant homos. Hilarious. Nicely played. I'm sure it beats your original headline of "Jiggle tits beats faaaaaaaaaaaaag". Stay classy, Post.